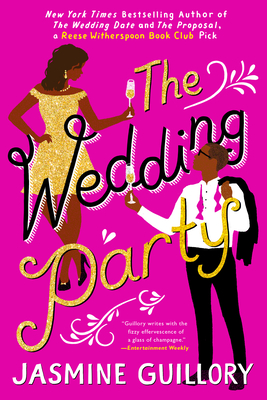 The Wedding Party
Publication Date:
July 16th, 2019
Usually Ships in 3 to 5 Days
Maddie hates Theo's snooty attitude. Theo hates Maddie's snide comments. Alexa is their best friend, and they're both in her wedding party. Neither knows how they're going to deal with each other's presence in the months to come, but as things might, their resentment turns to lust, and possibly something more. There's one main rule: Alexa must never find out about their secret trysts. Playful, sexy, and sweet, The Wedding Party is another romantic bullseye hit from Guillory.
August 2019 Indie Next List
The world Jasmine Guillory has created is full of the charm and winning coincidences of any good story, yet grounded by the everyday obstacles and failings we all relate to. Theo and Maddie, who share a mutual friend, Alexa, and little else, find themselves entangled in what begins as physical attraction, but quickly becomes something more. Unfortunately, egos, insecurities, and the sheer inability to know what you want, let alone ask for it clearly, conspire to keep these two opposites from attracting. Luckily, their friends and their feelings keep them from ruining a good thing.
Winter 2019 Reading Group Indie Next List
Description
As seen on The Today Show! 

The new exhilarating New York Times bestselling romance from the author of The Proposal, a Reese Witherspoon x Hello Sunshine Book Club Pick!
 
Maddie and Theo have two things in common:
1. Alexa is their best friend
2. They hate each other

After an "oops, we made a mistake" night together, neither one can stop thinking about the other. With Alexa's wedding rapidly approaching, Maddie and Theo both share bridal party responsibilities that require more interaction with each other than they're comfortable with. Underneath the sharp barbs they toss at each other is a simmering attraction that won't fade. It builds until they find themselves sneaking off together to release some tension when Alexa isn't looking, agreeing they would end it once the wedding is over. When it's suddenly pushed up and they only have a few months left of secret rendezvouses, they find themselves regretting that the end is near. Two people this different can't possibly have a connection other than the purely physical, right?
But as with any engagement with a nemesis, there are unspoken rules that must be abided by. First and foremost, don't fall in love.
Praise for The Wedding Party
Praise for Jasmine Guillory and The Wedding Party
"Another surefire hit."—PopSugar
"I have to actively refrain from talking about Guillory and her novels IN ALL CAPS because I get VERY EXCITED—she's that good!"—Shondaland
"Jasmine Guillory is the queen of contemporary romance."—Oprah Magazine
"One of romance's brightest new voices."—Entertainment Weekly
"A fresh take on the genre has emerged."—Man Repeller
"If you want a juicy, modern twist on the classic enemies-to-lovers romance, Guillory has you covered with The Wedding Party."—Real Simple
"Everything Jasmine Guillory touches turns to gold, and The Wedding Party is no exception."—Cosmopolitan
"It's the perfect summer book."—Bustle
"It's the most sweet, charming, and fun title yet."—HelloGiggles
"The exhilaraitng new offering from Jasmine Guillory...The Wedding Party will seduce you with the unlikely rendesvous of Maddie and Theo."—Essence Magazine
"Seriously sexy and wickedly smart."—Family Circle
"Fun and playful–perfect for the beach."—Coastal Living
"Effervescent and smart."—Shelf Awareness
"Maddie and Theo are well-rounded people with authentic flaws who are worth rooting for."—Bookpage
"A bit of wisdom: When Jasmine Guillory comes out with a book, buy it."—Refinery29
"Their passion transcends the pages."—Buzzfeed