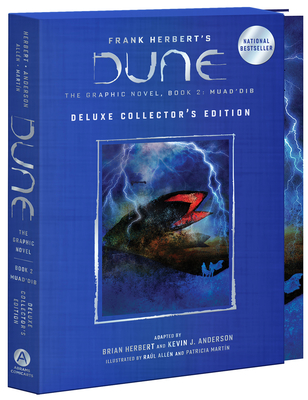 DUNE: The Graphic Novel, Book 2: Muad'Dib: Deluxe Collector's Edition
Publication Date:
October 3rd, 2023
Publisher:
Abrams ComicArts
Usually Ships in 3 to 5 Days
Description
The second of three volumes of the graphic novel adaptation of Dune, the groundbreaking science-fiction classic by Frank Herbert, offering a prescient look into our galactic future—now in a deluxe collector's edition.
 
In DUNE: The Graphic Novel, Book 2: Muad'Dib, young Paul Atreides and his mother, the Lady Jessica, find themselves stranded in the deep desert of Arrakis. Betrayed by one of their own and destroyed by their greatest enemy, Paul and Jessica must find the mysterious Fremen, or perish.
 
This faithful adaptation of the 1965 epic, Dune, by New York Times bestselling authors Brian Herbert (son of Frank Herbert) and Kevin J. Anderson, continues to explore Paul's journey as he evolves from boy to mysterious messiah. Illustrated by Raúl Allén and Patricia Martín, this spectacular blend of adventure and spirituality, environmentalism, and politics is a groundbreaking look into our universe and is transformed by the graphic novel format into a powerful, fantastical tale for a new generation of readers.
 
This deluxe collector's edition features an increased trim size of 7 1/2" x 11 1/4", is printed on high-quality matte art paper, and is packaged in a faux-cloth slipcase with foil stamping and tip-on cover.
 
Cover by Eisner Award–Winning Illustrator Bill Sienkiewicz
Praise for DUNE: The Graphic Novel, Book 2: Muad'Dib: Deluxe Collector's Edition
"This is a fantastic way to read the Dune epic and to become immersed in the greater details of the novel. The clear and precise artwork makes the narrative easy to follow and imbues the story with a cutting edge of the best stylish qualities that graphic novels have to offer.
— Alex Ross
"Bloody duels and larger set pieces—particularly explosive ones involving near-escapes from Arrakis's mammoth sandworms—that thrill."
— Publishers Weekly
"I liked the first volume of Abrams ComicArts' Dune adaptation, but I loved DUNE: The Graphic Novel, Book 2: Muad'Dib."
— Boingboing.net
"Dune: Book 2 continues the story of Paul Atreides in this fast-paced and action-packed installment to the series that has captivated sci-fi fans for decades."
— The Nerd Daily