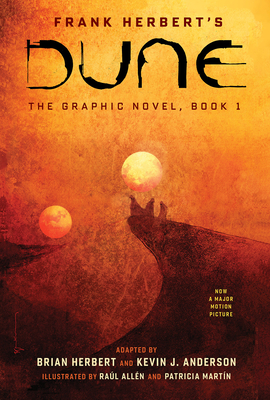 DUNE: The Graphic Novel, Book 1: Dune
Publication Date:
November 24th, 2020
Publisher:
Abrams ComicArts
Usually Ships in 3 to 5 Days
Description
The first book in the definitive graphic novel adaptation of Dune, the groundbreaking science-fiction classic by Frank Herbert.
 
Dune, Frank Herbert's epic science-fiction masterpiece set in the far future amidst a sprawling feudal interstellar society, tells the story of Paul Atreides as he and his family accept control of the desert planet Arrakis. A stunning blend of adventure and mysticism, environmentalism, and politics, Dune is a powerful, fantastical tale that takes an unprecedented look into our universe, and is transformed by the graphic novel format.
In the first volume of a three-book trilogy encompassing the original novel, New York Times bestselling authors Brian Herbert and Kevin J. Anderson's adaptation retains the story's integrity, and Raúl Allén and Patricia Martín's magnificent illustrations, along with cover art by award-winner Bill Sienkiewicz, bring the book to life for a new generation of readers.
 
"A much-needed addition to the series started by Frank Herbert decades ago." —The Nerd Daily
 
Praise for DUNE: The Graphic Novel, Book 1: Dune
"…it excels in broad action shots, such as the first spotting of a massive sandworm maw. This efficient take will whet appetites for more adventures to come."
— Publishers Weekly
"Boasting eye-popping art from Raúl Allén and Patricia Martin… Dune: The Graphic Novel is a scene-by-scene adaptation of the beloved novel from two writers who are already very familiar with the worlds of Arrakis and beyond."
— The Hollywood Reporter
"It's Dune, but easier on the eyes…That means you can indulge a bit here, taking time to remind yourself of what makes the original source material so good…"
— Polygon
"The palette practically makes Arrakis' blazing heat and desolation jump off the page…This art is gorgeous."
— Nerdist
"…an adaptation worthy of continuing the franchise's legacy for a new generation."
— Comic Book Resources
"…a breathtaking new comic book adaptation."
— SPACE.com
"The core of what made Dune a great science fiction novel has been preserved, and to it are added vibrant visuals in Dune: The Graphic Novel, Book 1—a resoundingly successful adaptation."
 
— Foreword STARRED Review
"Raúl Allén and Patricia Martín take a dense story and apply all that nuance and subtext to their visual language in adapting Dune. Panels establish scope and geography, and showcase the character who has the power in a scene, all the while guiding you as if you were on a theme park ride through the wild sci-fi action of warring families and giant sand worms. These two have pulled off a rare feat and made a political tale visually compelling."
— Eric Heisserer
"Intricate . . . well defined . . . easy to follow . . . blending the aristocratic costumery, sci-fi technology, and desert landscape into a world that is unmistakably Dune."
— Booklist
"A much-needed addition to the series started by Frank Herbert decades ago."
— The Nerd Daily
"The carefully chosen color palettes are particularly compelling, conveying the perfect sense of mood in every situation…a good gateway into the world of Dune."
— Boing Boing