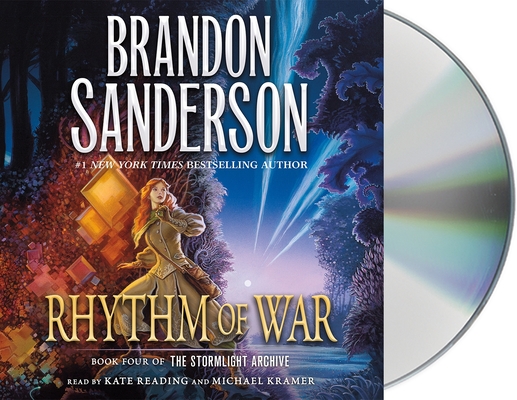 Rhythm of War: Book Four of The Stormlight Archive
Publication Date:
December 15th, 2020
Publisher:
Macmillan Audio
Description
"Powerhouse narrating duo Michael Kramer and Kate Reading bring their outstanding skills to this stunning continuation of the Stormlight Archive series...This audiobook is truly a masterpiece of story and performance." -- AudioFile Magazine, Earphones Award winner

An instant #1 New York Times Bestseller and a USA Today and Indie Bestseller!

The Stormlight Archive saga continues in Rhythm of War, the eagerly awaited sequel to Brandon Sanderson's #1 New York Times bestselling Oathbringer, from an epic fantasy writer at the top of his game.
After forming a coalition of human resistance against the enemy invasion, Dalinar Kholin and his Knights Radiant have spent a year fighting a protracted, brutal war. Neither side has gained an advantage, and the threat of a betrayal by Dalinar's crafty ally Taravangian looms over every strategic move.
Now, as new technological discoveries by Navani Kholin's scholars begin to change the face of the war, the enemy prepares a bold and dangerous operation. The arms race that follows will challenge the very core of the Radiant ideals, and potentially reveal the secrets of the ancient tower that was once the heart of their strength.
At the same time that Kaladin Stormblessed must come to grips with his changing role within the Knights Radiant, his Windrunners face their own problem: As more and more deadly enemy Fused awaken to wage war, no more honorspren are willing to bond with humans to increase the number of Radiants. Adolin and Shallan must lead the coalition's envoy to the honorspren stronghold of Lasting Integrity and either convince the spren to join the cause against the evil god Odium, or personally face the storm of failure.
Other Tor books by Brandon Sanderson
The Cosmere

The Stormlight Archive
The Way of Kings
Words of Radiance
Edgedancer (Novella)
Oathbringer
Rhythm of War
The Mistborn trilogy
Mistborn: The Final Empire
The Well of Ascension
The Hero of Ages
Mistborn: The Wax and Wayne series
Alloy of Law
Shadows of Self
Bands of Mourning
Collection
Arcanum Unbounded
Other Cosmere novels
Elantris
Warbreaker
The Alcatraz vs. the Evil Librarians series
Alcatraz vs. the Evil Librarians
The Scrivener's Bones
The Knights of Crystallia
The Shattered Lens
The Dark Talent
The Rithmatist series
The Rithmatist
Other books by Brandon Sanderson

The Reckoners
Steelheart
Firefight
Calamity
A Macmillan Audio production from Tor Books
Praise for Rhythm of War: Book Four of The Stormlight Archive
Praise for the Stormlight Archive
"Classic Sanderson, with multiple story lines and unexpected twists and turns . . . Successfully balances introducing new elements and satisfactorily resolving some threads, leaving fans to eagerly await the next in the series."—Publishers Weekly on Oathbringer
"Excellent . . . cranks up the level of intrigue to dizzying extremes…Sanderson's experiment is working, and he gets better with every book. The journey will be worth it. Yes, you should buy this book. Yes, this is a series worth following to the end."—Tor.com on Words of Radiance
"Absolutely revels in its fantasy world, one of actual gods, bizarre magic, knights with superpowers, spirits and sorcery, monsters, demons, and magic sword called Shardblades. It embraces the fantastic, and does so with an astonishing amount of creativity . . . Words of Radiance is a must-read."—io9 on Words of Radiance
"Words of Radiance may be the most accomplished followup to a popular first novel in the last 15 years."—Buzzfeed on Words of Radiance
"Sanderson is a master . . . Fans and lovers of epic fantasy will find the ending satisfying, yet will eagerly await the next volume."—Library Journal on The Way of Kings
"Epic in every sense."—The Guardian on The Way of Kings
"Sanderson is a master of many aspects of the fantasy genre: epic world-building, coherent systems of magic and unforgettable character development. All those are in peak form in his masterwork, The Way of Kings."—Paste Magazine, "The 50 Best Fantasy Books of the 21st Century (So Far)"
"Brandon Sanderson's reputation is finally as big as his novels."—The New York Times on Words of Radiance