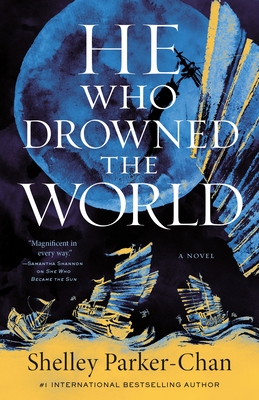 He Who Drowned the World: A Novel (The Radiant Emperor Duology #2)
Publication Date:
July 16th, 2024
Description
The sequel and series conclusion to She Who Became the Sun, the accomplished, poetic debut of war and destiny, sweeping across an epic alternate China. Mulan meets The Song of Achilles.
How much would you give to win the world?
Zhu Yuanzhang, the Radiant King, is riding high after her victory that tore southern China from its Mongol masters. Now she burns with a new desire: to seize the throne and crown herself emperor.
But Zhu isn't the only one with imperial ambitions. Her neighbor in the south, the courtesan Madam Zhang, wants the throne for her husband—and she's strong enough to wipe Zhu off the map. To stay in the game, Zhu will have to gamble everything on a risky alliance with an old enemy: the talented but unstable eunuch general Ouyang, who has already sacrificed everything for a chance at revenge on his father's killer, the Great Khan.
Unbeknownst to the southerners, a new contender is even closer to the throne. The scorned scholar Wang Baoxiang has maneuvered his way into the capital, and his lethal court games threaten to bring the empire to its knees. For Baoxiang also desires revenge: to become the most degenerate Great Khan in history—and in so doing, make a mockery of every value his Mongol warrior family loved more than him.
All the contenders are determined to do whatever it takes to win. But when desire is the size of the world, the price could be too much for even the most ruthless heart to bear…
Praise for He Who Drowned the World: A Novel (The Radiant Emperor Duology #2)
"Even better than the first. . . . These novels beautifully capture the feedback loop wherein queer-coded characters are reviled, which drives them to unbearable viciousness, which in turn fills them with self-loathing. Parker-Chan's characters struggle to break this cycle, and the nuance with which they're portrayed makes us root for them. In the end, Parker-Chan seems to suggest, power belongs not to the most ruthless but to those who are most successful at self-forgiveness."—The Washington Post
"The most finely crafted fantasy novel of the year. . . . Sentence by sentence, Parker-Chan's prose is unrivaled in modern fantasy. It's so consistent in its richness, so precise in its sequencing that even the grimmest of moments become enthralling and vital. . . .The fearless Parker-Chan pulls no punches, repeatedly pushing characters to their limits and beyond."—BookPage, starred review
"Intricately plotted and devastatingly brutal historical fantasy. . . . Parker-Chan admirably continues the nuanced and compassionate examination of gender, sex, and desire that began in book one while simultaneously dialing up the intensity. . . . Parker-Chan successfully steers the complex political machinations to a satisfying conclusion."—Publishers Weekly
"A powerful historical fantasy filled with complex people and high stakes. . . . Paying equal attention to fierce battle scenes and deep conversations and filled with desperate decisions and brutal actions, this book is immersive and intimate."—Library Journal, starred review
"A heart-racing, emotional story that is also heartrending and shocking precisely. . . . The conclusion of the Radiant Emperor duology makes use of every last word and stamps this series onto the map as a new must-read of the fantasy canon."—Booklist, starred review
"Gender, power, queerness, sex and empire are explored in complex and sometimes shocking ways. This duology will leave you breathless."—NPR, "Books We Love" feature
"An incredibly compelling novel, vividly written, with fascinating thematic arguments about gender and power – there are entire essays to be composed on that aspect of this novel alone – and with a startlingly fresh approach to combining the fantastical with the historical… I suspect I'll still be thinking about this duology in a decade's time. In either case, He Who Drowned the World is a worthy successor to She Who Became the Sun: a vivid and entertaining novel whose characters, for all their flaws, are never less than wholly fascinating."—Locus
"Just as exciting, epic and stunningly written as the first. It will leave you on the edge of your seat until the final page."—Ms. Magazine
"A dark, often brutal, and occasionally gory follow-up to (excellent) historical fantasy She Who Became the Sun, Shelley Parker Chan sends her Radiant Emperor duology off in style."—Paste
Praise for SHE WHO BECAME THE SUN:
"She Who Became the Sun is epic, tragic, and gorgeous. It will wreck you, and you will be grateful." —Alix E. Harrow, Hugo Award–winning author of The Once and Future Witches
"Evocative and heartrending, Parker-Chan's debut is a poetic masterpiece about war, love, and identity."—S.A. Chakraborty, international bestselling author of THE DAEVABAD TRILOGY
"Gorgeous and sprawling masterpiece of historical fantasy."—Buzzfeed
"A gripping tale of rise to power, fate, betrayals and the bloody beginnings and endings of dynasties. Heartbreaking, stirring, haunting."—Aliette de Bodard, Nebula-award winning author of SEVEN OF INFINITIES
"Parker-Chan unrolls the painted scroll of her epic tale with the control of a master storyteller, revealing a dazzling new world of fate, war, love and betrayal. Fantasy will never be the same." —Zen Cho, award-winning author of The True Queen
"An exhilarating rise to power . . . in a world that is stunningly alive. Parker-Chan's exquisitely wrought prose brings light and nuance to the novel's immense themes of gender, power and fate. An instant classic."—C.S. Pacat, USA Today bestselling author of the CAPTIVE PRINCE TRILOGY
"An absolute stunner... The story, much like the characters, is ambitious and clever and the depth of emotion Parker-Chan is able to tap into without ever becoming maudlin is astounding." —Rebecca Roanhorse, Hugo and Nebula-award winning author of Black Sun
"Stunning, powerful and complex, there are no heroes in this tale, and people knowingly do terrible things. And you'll love them for it."—Anna Stephens, author of the GODBLIND TRILOGY
"Zhu is a hero unlike any other - her propulsive desire to survive at any cost powers a glorious novel that encompasses grand betrayal, love, loss and triumph . . . . Tender characterisation, assured pacing and dry wit makes this . . . unforgettable." —A. K. Larkwood, author of The Unspoken Name
"Shelley Parker-Chan's debut novel is a sweeping epic rendered in elegant prose. Arresting, beautiful, grand in scope and yet intimately poignant, readers will be drawn into this deftly written fantasy."— Rowenna Miller, author of Torn
"[An] important debut that expands our concept of who gets to be a hero and a villain, and introduces a pair of gender disruptors who are destined to change China – and the LGBTQ fantasy canon – forever."—USA Today
"Parker-Chan's debut is forceful, immersive, and unforgettable."—Library Journal, starred review