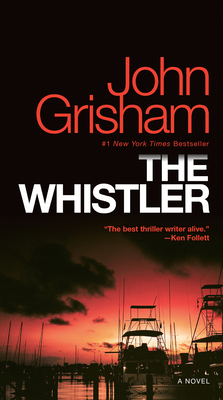 The Whistler: A Novel
Publication Date:
July 11th, 2017
Usually Ships in 3 to 5 Days
Description
#1 NEW YORK TIMES BESTSELLER • A high-stakes thrill ride through the darkest corners of the Sunshine State, from the author hailed as "the best thriller writer alive" by Ken Follett
We expect our judges to be honest and wise. Their integrity is the bedrock of the entire judicial system. We trust them to ensure fair trials, to protect the rights of all litigants, to punish those who do wrong, and to oversee the flow of justice. But what happens when a judge bends the law or takes a bribe?
   
Lacy Stoltz is an investigator for the Florida Board on Judicial Conduct. It is her job to respond to complaints dealing with judicial misconduct. After nine years with the Board, she knows that most problems are caused by incompetence, not corruption.
But a corruption case eventually crosses her desk. A previously disbarred lawyer is back in business, and he claims to know of a Florida judge who has stolen more money than all other crooked judges combined. And not just crooked judges in Florida. All judges, from all states, and throughout United States history. And now he wants to put a stop to it. His only client is a person who knows the truth and wants to blow the whistle and collect millions under Florida law. When the case is assigned to Lacy, she immediately suspects that this one could be dangerous. Dangerous is one thing. Deadly is something else.
"[A] main character [who's] a seriously appealing woman . . . a whistle-blower who secretly calls attention to corruption . . . a strong and frightening sense of place . . . [John Grisham's] on his game."—Janet Maslin, The New York Times
 
"[John Grisham is] our guide to the byways and backwaters of our legal system, superb in particular at ferreting out its vulnerabilities and dramatizing their abuse in gripping style."—USA Today
 
"Riveting . . . an elaborate conspiracy."—The New York Times Book Review
Don't miss John Grisham's new book, THE EXCHANGE: AFTER THE FIRM!
Praise for The Whistler: A Novel
"Riveting . . . finely drawn . . . The Whistler centers on an elaborate conspiracy involving an Indian reservation, an organized crime syndicate and a crooked judge skimming a small fortune from the tribal casino's monthly haul."—The New York Times Book Review  
"A main character who's a seriously appealing woman . . . a whistle-blower who secretly calls attention to corruption . . . a strong and frightening sense of place . . . Grisham's on his game."—Janet Maslin, The New York Times

"A fascinating look at judicial corruption . . . an entirely convincing story and one of Grisham's best. I can't think of another major American novelist since Sinclair Lewis who has so effectively targeted social and political ills in our society. In Grisham's case, it is time at least to recognize that at his best he is not simply the author of entertaining legal thrillers but an important novelistic critic of our society. In more than 30 novels, he has often used his exceptional storytelling skills to take a hard look at injustice and corruption in the legal world and in our society as a whole."—Patrick Anderson, The Washington Post   
"Grisham's latest involves the rich and powerful and an abuse of the justice system. Grisham novels are crowd-pleasers because he knows how to satisfy readers who want to see injustice crushed, and justice truly prevails for those who cannot buy influence."—Associated Press
"Grisham has become an institution. For more than 25 years now he's been our guide to the byways and backwaters of our legal system, superb in particular at ferreting out its vulnerabilities and dramatizing their abuse in gripping style. He excels at describing injustice and corruption.  Grisham's legal knowledge is impressive, and his ability to convey it unparalleled in popular fiction."—USA Today