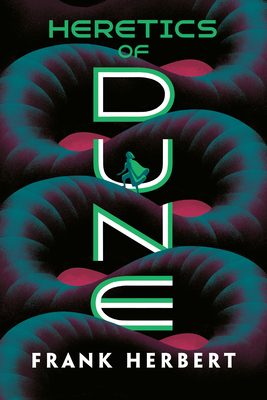 Heretics of Dune
Publication Date:
July 7th, 2020
Usually Ships in 3 to 5 Days
Description
Book Five in the Magnificent Dune Chronicles—the Bestselling Science Fiction Adventure of All Time
Leto Atreides, the God Emperor of Dune, is dead. In the fifteen hundred years since his passing, the Empire has fallen into ruin. The great Scattering saw millions abandon the crumbling civilization and spread out beyond the reaches of known space. The planet Arrakis—now called Rakis—has reverted to its desert climate, and its great sandworms are dying.
Now the Lost Ones are returning home in pursuit of power. And as these factions vie for control over the remnants of the Empire, a girl named Sheeana rises to prominence in the wastelands of Rakis, sending religious fervor throughout the galaxy. For she possesses the abilities of the Fremen sandriders—fulfilling a prophecy foretold by the late God Emperor....
Praise for Heretics of Dune
Praise for Heretics of Dune
"A monumental piece of imaginative architecture…indisputably magical."—Los Angeles Herald Examiner
 
"Appealing and gripping...Fascinating detail, yet cloaked in mystery and mysticism."—The Milwaukee Journal
Praise for Dune
"I know nothing comparable to it except Lord of the Rings."—Arthur C. Clarke 
"A portrayal of an alien society more complete and deeply detailed than any other author in the field has managed...a story absorbing equally for its action and philosophical vistas."—The Washington Post Book World
"One of the monuments of modern science fiction."—Chicago Tribune
"Powerful, convincing, and most ingenious."—Robert A. Heinlein 
"Herbert's creation of this universe, with its intricate development and analysis of ecology, religion, politics and philosophy, remains one of the supreme and seminal achievements in science fiction."—Louisville Times