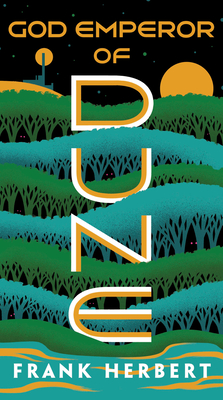 God Emperor of Dune
Publication Date:
June 4th, 2019
Usually Ships in 3 to 5 Days
Description
Book Four in the Magnificent Dune Chronicles—the Bestselling Science Fiction Adventure of All Time
Millennia have passed on Arrakis, and the once-desert planet is green with life. Leto Atreides, the son of the world's savior, the Emperor Paul Muad'Dib, is still alive but far from human. To preserve humanity's future, he sacrificed his own by merging with a sandworm, granting him near immortality as God Emperor of Dune for the past thirty-five hundred years.
Leto's rule is not a benevolent one. His transformation has made not only his appearance but his morality inhuman. A rebellion, led by Siona, a member of the Atreides family, has risen to oppose the despot's rule. But Siona is unaware that Leto's vision of a Golden Path for humanity requires her to fulfill a destiny she never wanted—or could possibly conceive....
Praise for God Emperor of Dune
Praise for God Emperor of Dune
"Rich fare...Heady stuff."—Los Angeles Times
 
"A fourth visit to distant Arrakis that is every bit as fascinating as the other three—every bit as timely."—Time
 
Praise for Dune
"I know nothing comparable to it except Lord of the Rings."—Arthur C. Clarke 
"A portrayal of an alien society more complete and deeply detailed than any other author in the field has managed...a story absorbing equally for its action and philosophical vistas."—The Washington Post Book World
"One of the monuments of modern science fiction."—Chicago Tribune
"Powerful, convincing, and most ingenious."—Robert A. Heinlein 
"Herbert's creation of this universe, with its intricate development and analysis of ecology, religion, politics and philosophy, remains one of the supreme and seminal achievements in science fiction."—Louisville Times