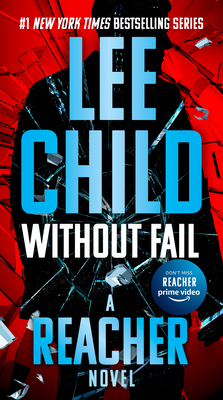 Without Fail (Jack Reacher #6)
Publication Date:
February 26th, 2008
Usually Ships in 3 to 5 Days
Description
Jack Reacher takes aim at the White House in the sixth novel in Lee Child's #1 New York Times bestselling series.
DON'T MISS REACHER ON PRIME VIDEO!

Skilled, cautious, and anonymous, Jack Reacher is perfect for the job: to assassinate the vice president of the United States. Theoretically, of course. A female Secret Service agent wants Reacher to find the holes in her system, and fast—because a covert group already has the vice president in their sights. They've planned well. There's just one thing they didn't plan on: Reacher.
Praise for Without Fail (Jack Reacher #6)
"If Without Fail doesn't hook you on Lee Child, I give up."—The New York Times
 
"Relentlessly paced...and absolutely mesmerizing."—Milwaukee Journal Sentinel
 
"Everything falls into place like a well-assembled time bomb."—The Boston Globe
 
"A stunner...The suspense becomes nearly unbearable."—Booklist
"This is a knockout."—Library Journal
"[The] plot is ingenious…This is a superior series."—The Washington Post Book World
"If you haven't read a Reacher story, do yourself an exciting and engrossing favor and pick one up. Grade A."—Rocky Mountain News