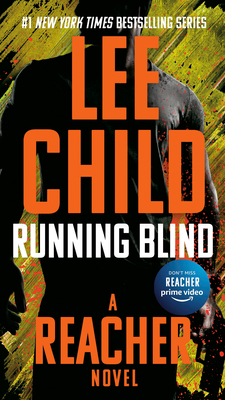 Running Blind (Jack Reacher #4)
Publication Date:
August 28th, 2007
Usually Ships in 3 to 5 Days
Description
Jack Reacher races to solve the perfect crime in the fourth novel in Lee Child's #1 New York Times bestselling series.

DON'T MISS REACHER ON PRIME VIDEO!
Across the country, women are being murdered, victims of a disciplined and clever killer who leaves no trace evidence, no fatal wounds, no signs of struggle, and no clues to an apparent motive. They are, truly, perfect crimes. In fact, there's only one thing that links the victims. Each one of the women knew Jack Reacher—and it's got him running blind.
Praise for Running Blind (Jack Reacher #4)
"Swift and brutal."—The New York Times
"Reacher is one of the more interesting suspense heroes to come along in a while."—San Antonio Express News
"A superior series."—The Washington Post Book World
"A great read."—St. Petersburg Times
"Spectacular...muscular, energetic prose and pell-mell pacing."—The Seattle Times
"Jack Reacher, the wandering folk hero of Child's superb line of thrillers faces a baffling puzzle in his latest adventure…a brain-teasing puzzle that gets put together piece by fascinating piece...and a central character with Robin Hood-like integrity and an engagingly eccentric approach to life."—Publishers Weekly
"Deeply satisfying...plan to stay up long past bedtime and do some serious hyperventilating toward the end."—Kirkus Reviews
"This fourth Reacher thriller is easily the best. The plot is a masterpiece. Reacher belongs at the same table with…Parker's Spenser."—Booklist
"With numerous plot twists and turns, Child puts Reacher through his paces brilliantly, arriving at an unusual solution. Highly recommended."—Library Journal