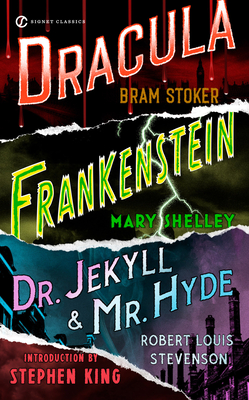 Frankenstein, Dracula, Dr. Jekyll and Mr. Hyde
Publication Date:
December 1st, 1978
Usually Ships in 3 to 5 Days
Description
Three horror icons come together in one indispensable tome—with an introduction by Stephen King.
"Within the pages of this volume you will come upon three of the darkest creations of English nineteenth-century literature; three of the darkest in all of English and American literature, many would say…and not without justification…These three creatures, presented together for the first time, all have a great deal in common beyond their power to go on frightening generation after generation of readers…but that fact alone should be considered before all others."—From the Introduction by Stephen King
A diabolical, bloodthirsty Count draws an unsuspecting young man into a world of terrors. A scientist oversteps the bounds of conscience and brings to life a tortured creation. A man of medicine explores his darker side only to fall prey to it. These three legendary tales have held readers spellbound for more than a century. 
The titles alone—Dracula, Frankenstein, and Dr. Jekyll and Mr. Hyde—have become synonymous with horror. They are part of a universal language that serves to put a monster's face on the good-and-evil duality of our very human nature. Inventive and subversive, these classic tales of terror can shake even the modern reader with something far more profound than fear....