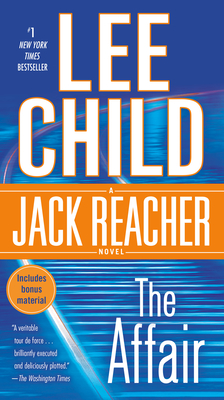 The Affair: A Jack Reacher Novel
Publication Date:
March 27th, 2012
Usually Ships in 3 to 5 Days
Description
#1 NEW YORK TIMES BESTSELLER • THE BLOCKBUSTER JACK REACHER SERIES THAT INSPIRED TWO MAJOR MOTION PICTURES AND THE STREAMING SERIES REACHER

"A veritable tour de force . . . brilliantly executed and deliciously plotted."—The Washington Times
Everything starts somewhere. For elite military cop Jack Reacher, that somewhere was Carter Crossing, Mississippi, way back in 1997.
Reacher is ordered undercover to investigate the murder of a young woman. Evidence points to a U.S. soldier with powerful friends. Once in Carter Crossing, Reacher meets local sheriff Elizabeth Deveraux, who has a thirst for justice and an appetite for secrets. Uncertain they can trust each other, they reluctantly join forces. Reacher works to uncover the truth, while others try to bury it forever. The conspiracy threatens to shatter his faith in his mission— and turn him into a man to be feared.
Praise for The Affair: A Jack Reacher Novel
"A veritable tour de force . . . brilliantly constructed, flawlessly executed and deliciously plotted."—The Washington Times
"The [Reacher] novel fans have been waiting for."—USA Today
"One of the best Reacher books yet . . . The tension builds early and continues nonstop."—The Miami Herald
 
"Big, exciting . . . The Affair shakes up the status quo."—The New York Times
"A series that stands in the front rank of modern thrillers."—The Washington Post
 
"Jack Reacher is the coolest continuing series character now on offer."—Stephen King
 
"Child makes what he does seem simple. If it is, though, it's strange that nobody has managed it so well."—Evening Standard