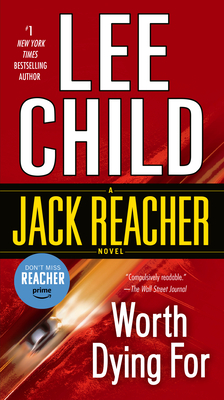 Worth Dying For: A Jack Reacher Novel
Publication Date:
April 26th, 2011
Usually Ships in 3 to 5 Days
Description
THE #1 NEW YORK TIMES BESTSELLING JACK REACHER SERIES THAT INSPIRED TWO MAJOR MOTION PICTURES AND THE STREAMING SERIES REACHER
A heart-racing page-turner that hits the ground running and then accelerates all the way to a colossal showdown
"Jack Reacher is the coolest continuing series character now on offer."—Stephen King, in Entertainment Weekly
There's deadly trouble in the corn country of Nebraska . . . and Jack Reacher walks right into it. First he falls foul of the Duncans, a local clan that has terrified an entire county into submission. But it's the unsolved case of a missing child, already decades old, that Reacher can't let go. 
The Duncans want Reacher gone—and it's not just past secrets they're trying to hide. They're awaiting a secret shipment that's already late—and they have the kind of customers no one can afford to annoy. For as dangerous as the Duncans are, they're just the bottom of a criminal food chain stretching halfway around the world. 
For Reacher, it would have made much more sense to keep on going, to put some distance between himself and the hard-core trouble that's bearing down on him. For Reacher, that was also impossible.
Praise for Worth Dying For: A Jack Reacher Novel
Praise for the Jack Reacher series
 
"The truth about Reacher gets better and better. . . . This series [is] utterly addictive."—Janet Maslin, The New York Times
  
"Jack Reacher is today's James Bond, a thriller hero we can't get enough of. I read every one as soon as it appears."—Ken Follett
"Reacher is the stuff of myth. . . . One of this century's most original, tantalizing pop-fiction heroes."—The Washington Post
"I'm a fan."—James Patterson
"The Reacher novels are easily the best thriller series going."—NPR
 
"Reacher is a man for whom the phrase moral compass was invented: His code determines his direction. . . . You need Jack Reacher."—The Atlantic
 
"I pick up Jack Reacher when I'm in the mood for someone big to solve my problems."—Patricia Cornwell
 
"[A] feverishly thrilling series . . . You can always count on furious action."—Miami Herald