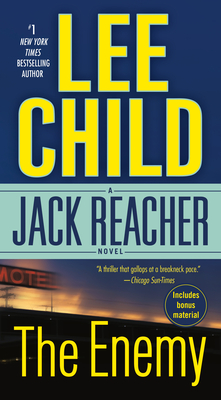 The Enemy: A Jack Reacher Novel
Publication Date:
May 19th, 2009
Usually Ships in 3 to 5 Days
Description
THE #1 NEW YORK TIMES BESTSELLING JACK REACHER SERIES THAT INSPIRED TWO MAJOR MOTION PICTURES AND THE STREAMING SERIES REACHER
 
"A thriller that gallops at a breakneck pace."—Chicago Sun-Times
 
Jack Reacher. Hero. Loner. Soldier. Soldier's son. An elite military cop, he was one of the army's brightest stars. But in every cop's life there is one case that changes everything. For Jack Reacher, this is that case.
 
New Year's Day, 1990. In a North Carolina motel, a two-star general is found dead. His briefcase is missing. Nobody knows what was in it. Within minutes Reacher has his orders: Control the situation. Within hours the general's wife is murdered. Then the dominoes really start to fall.
 
Somewhere inside the vast worldwide fortress that is the U.S. Army, Reacher is being set up as a fall guy with the worst enemies a man can have. But Reacher won't quit. He's fighting a new kind of war—against an enemy he didn't know he had. And against a conspiracy more chilling, ingenious, and treacherous than anyone could have guessed.
 
The Enemy, like most of the books in the Jack Reacher series, can be read as a standalone thriller.
Praise for The Enemy: A Jack Reacher Novel
"A fabulously suspenseful prequel.... [Lee Child's] best so far."—Kirkus Reviews, starred review
"Textured, swift, and told in Reacher's inimitably tough voice … Child has few peers in thrillerdom."—Publishers Weekly, starred review
"The best showcase of Child's talent to date. .... one of the best thriller writers at work."—Rocky Mountain News
"The Enemy sizzles with suspense and action. Child sets a breathless pace."—Orlando Sentinel
"A rip-roaring read from the first page to the last ."—St. Petersburg Times
"[Jack Reacher is]. . .the thinking reader's action hero a surprisingly tender combination of chess master and G.I. Joe."—Seattle Times
"Will keep you guessing until the final page."—Playboy