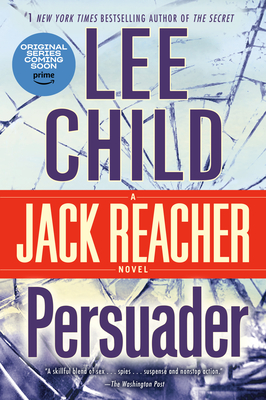 Persuader: A Jack Reacher Novel
Publication Date:
May 19th, 2009
Usually Ships in 3 to 5 Days
Description
THE #1 NEW YORK TIMES BESTSELLING JACK REACHER SERIES THAT INSPIRED TWO MAJOR MOTION PICTURES AND THE STREAMING SERIES REACHER
"Gripping and suspenseful . . . Child ratchets up the suspense to new heights."—The Denver Post
 
Jack Reacher lives for the moment. Without a home. Without commitment. And with a burning desire to right wrongs—and rewrite his own agonizing past. DEA Susan Duffy is living for the future, knowing that she has made a terrible mistake by putting one of her own female agents into a death trap within a heavily guarded Maine mansion.
 
Staging a brilliant ruse, Reacher hurtles into the dark heart of a vast criminal enterprise. Trying to rescue an agent whose time is running out, Reacher enters a crime lord's waterfront fortress. There he will find a world of secrecy and violence—and confront some unfinished business from his own past.
Praise for Persuader: A Jack Reacher Novel
"Gripping and suspenseful . . . Child ratchets up the suspense to new heights."—The Denver Post
 
"A page-turner . . . [Lee] Child's tale drives hard and fast."—Los Angeles Times Book Review
 
"Wickedly addictive . . . so fast-paced it makes the eyeballs spin."—Orlando Sentinel
 
"A story that will sweep you along as fast as some of the riptides Reacher survives."—St. Petersburg Times

Praise for the Jack Reacher series
"The truth about Reacher gets better and better. . . . This series [is] utterly addictive."—Janet Maslin, The New York Times

"Jack Reacher is today's James Bond, a thriller hero we can't get enough of. I read every one as soon as it appears."—Ken Follett
"Reacher is the stuff of myth. . . . One of this century's most original, tantalizing pop-fiction heroes."—The Washington Post
"I'm a fan."—James Patterson
  
"The Reacher novels are easily the best thriller series going."—NPR
"Reacher is a man for whom the phrase moral compass was invented: His code determines his direction. . . . You need Jack Reacher."—The Atlantic
"I pick up Jack Reacher when I'm in the mood for someone big to solve my problems."—Patricia Cornwell
 
"[A] feverishly thrilling series . . . You can always count on furious action."—Miami Herald