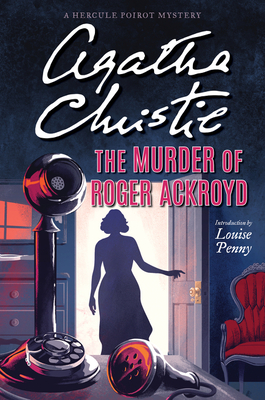 The Murder of Roger Ackroyd: A Hercule Poirot Mystery (Hercule Poirot Mysteries)
Publication Date:
December 28th, 2021
Publisher:
William Morrow Paperbacks
Usually Ships in 3 to 5 Days
Description
"This is Agatha Christie's masterpiece, and if she never wrote another word, she'd have still gone down as the Queen." –LOUISE PENNY, #1 New York Times bestselling author
"Ingenious and unexpected." –NEW YORK TIMES
The official edition of the beloved classic voted by the British Crime Writers' Association as the "Best Crime Novel of all Time," now featuring a new introduction by Louise Penny, a foreword from Agatha Christie's great grandson, and exclusive content from the Queen of Mystery.
Roger Ackroyd knew too much. He knew that the woman he loved had poisoned her brutal first husband. He suspected also that someone had been blackmailing her. Then, tragically, came the news that she had taken her own life with an apparent drug overdose.
However, the evening post brought Roger one last fatal scrap of information, but before he could finish reading the letter, he was stabbed to death. Luckily one of Roger's friends and the newest resident to retire to this normally quiet village takes over—none other than Monsieur Hercule Poirot . . .
Not only beloved by generations of readers, The Murder of Roger Ackroyd was one of Agatha Christie's own favorite works—a brilliant whodunit that firmly established the author's reputation as the Queen of Mystery.
Praise for The Murder of Roger Ackroyd: A Hercule Poirot Mystery (Hercule Poirot Mysteries)
&#8220Agatha Christie had a mind like a mousetrap and taught me, in novels like The Murder of Roger Ackroyd, the pleasure of literary surprise.&#8221 — William Dietrich, New York Times bestselling author of the Ethan Gage Historical Adventures William Dietrich, New York Times bestselling author of the Ethan Gage Historical Adventures William Dietrich, New York Times bestselling author of the Ethan Gage Adventures
&#8220A classic—the book has worthily earned its fame.&#8221 — Irish Independent (Ireland)
&#8220One of the landmarks of detective literature.&#8221 — H. R. F. Keating, Crime & Mystery: The 100 Best Books