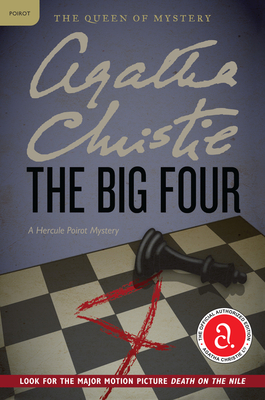 The Big Four: A Hercule Poirot Mystery (Hercule Poirot Mysteries #4)
Publication Date:
August 31st, 2021
Publisher:
William Morrow Paperbacks
Usually Ships in 3 to 5 Days
Description
In this official edition featuring exclusive content from the Queen of Mystery, Hercule Poirot gets caught up in an international scheme.
"It is always a delight to meet Hercule Poirot again. He is one of the few detectives with real charm." —Dorothy L. Sayers
Framed in the doorway of Hercule Poirot's bedroom stands an uninvited guest, coated from head to foot in dust. The man stares for a moment, then he sways and falls. Who is he? Is he suffering from shock or just exhaustion? Above all, what is the significance of the figure 4, scribbled over and over again on a sheet of paper?
Poirot finds himself plunged into a global conspiracy, risking his life—and that of his "twin brother"—to uncover the truth.
Praise for The Big Four: A Hercule Poirot Mystery (Hercule Poirot Mysteries #4)
"Agatha Christie's books are both wonderful crime novels and studies in contrast and duality, and I adore them still. Underestimate them at your peril." — Louise Penny, #1 New York Times bestselling author of the Inspector Gamache novels  
"Agatha Christie taught me many important lessons about the inner workings of the mystery novel before it ever occurred to me that I might one day be writing mysteries myself."  — Sue Grafton, #1 New York Times bestselling author of the Kinsey Millhone novels
"Any mystery writer who wants to learn how to plot should spend a few days reading Agatha Christie. She'll show you everything you want to know."  — Donna Leon, New York Times bestselling author of the Commissario Brunetti novels
"Agatha Christie's indelibly etched characters have entertained millions across the years and a love of her work has brought together generations of readers—a singular achievement for any author and an inspiration to writers across the literary landscape." — Jacqueline Winspear, New York Times bestselling author of the Maisie Dobbs novels  
"Reading a perfectly plotted Agatha Christie is like crunching into a perfect apple: that pure, crisp, absolute satisfaction."  — Tana French, New York Times bestselling author of the Dublin Murder Squad novels