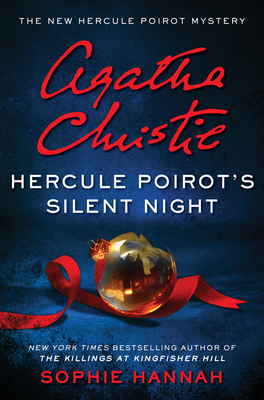 Hercule Poirot's Silent Night: A Novel (The New Hercule Poirot Mystery)
Publication Date:
October 24th, 2023
Publisher:
William Morrow
Usually Ships in 3 to 5 Days
Description
The world's greatest detective, Hercule Poirot—legendary star of Agatha Christie's Murder on the Orient Express and Death on the Nile—puts his little grey cells to work solving a baffling Christmas mystery.
It's December 19, 1931. Hercule Poirot and Inspector Edward Catchpool are looking forward to a much-needed, restful Christmas holiday, when they are called upon to investigate the murder of a man in a Norfolk hospital ward. Cynthia Catchpool, Edward's mother, insists that Poirot stay with her in a crumbling mansion by the coast, so that they can all be together for the festive period while he solves the case.
As Poirot digs into the mystery, he discovers that the murdered man was a retired post office master, and by all accounts very well-liked. The local constabulary's investigation failed to uncover how someone could have entered a hospital room and killed him under the noses of the staff. Cynthia's friend Arnold is soon to be admitted to that same hospital, and his wife is convinced he will be the killer's next victim, though she refuses to explain why.
With no obvious motive or suspect, Poirot has less than a week to solve the crime and prevent more murders, if he is to escape from this nightmare scenario and get home in time for Christmas. Meanwhile, someone else—someone utterly ruthless—also has ideas about what ought to happen to Hercule Poirot…
Praise for Hercule Poirot's Silent Night: A Novel (The New Hercule Poirot Mystery)
"Clever, amusing, complicated . . . a psychological thriller with a characteristically intricate and humorous puzzle of a plot."  — New York Times Book Review, Gifts for Book Lovers, on The Killings at Kingfisher Hill
"Sophie Hannah does an egoless, silky job of reviving Agatha Christie's beloved Belgian detective Hercule Poirot. . . . Enough so to hope that Hannah turns to Miss Marple next." — USA Today
"Classic Christie . . . Captures the essence of the originals without being a slavish imitation . . . Christie aficionados will delight." — Washington Post on Closed Casket
"[A] masterful and multi-layered puzzle . . . adding a new dimension to a much-loved series." — NPR on The Killings at Kingfisher Hill
"I was thrilled to see Poirot in such very, very good hands." — Gillian Flynn, New York Times bestselling author of Gone Girl
&#8220Sophie Hannah's The Monogram Murders does Christie proud. Our favorite detective is back and in impeccable form!&#8221 — Charles Todd, New York Times bestselling author of An Unwilling Accomplice
"Hannah does a superb job of channeling Agatha Christie . . . with dazzling deductions, subtle cluing, false endings, and superb prose . . . Lovers of classic whodunits can only hope Hannah continues to offer her take on the great Belgian detective." — Publishers Weekly (starred review)
"An intelligent blend of obeisance and originality, The Killings at Kingfisher Hill merits high praise for the work of Christie and Hannah alike." — The Free Lance-Star on The Killings at Kingfisher Hill
"Among the many posthumously-continued mystery series, is any in better hands than Poirot is in Sophie Hannah's? The poet and crime scribe has managed to keep the spirit of Agatha Christie's novels alive while always introducing new touches and flourishes to keep readers guessing and delighted. . . . Insidious motivations and secret pasts converge in high Christie fashion, as the puzzle plays out in highly satisfying fashion." — CrimeReads on The Killings at Kingfisher Hill
"Readers will feel steeped in the environs of upper-middle-class England of days past, the chill emanating from a dysfunctional family, and the torture of doing the wrong thing for the right reasons as they enjoy Catchpool's exasperation and Poirot's genius-at-work sensibilities. . . . Recommend this to board-game aficionados as well as to fans of Christie and Hannah." — Booklist on The Killings at Kingfisher Hill
"It is no small undertaking to follow in the footsteps of Christie, but Hannah nails it in her latest, The Killings at Kingfisher Hill. The tone is pitch-perfect, the mystery aspect is as convoluted as anything ever crafted by Hannah's predecessor, there are more red herrings than you would find at a Swedish breakfast buffet, and the diminutive mustachioed Belgian detective has never been cannier . . . Hannah's work is first-rate. Poirot lives." — Bookpage
"Brilliant . . . a masterfully plotted, mind-bending crime thriller that harkens back to the days when Agatha Christie ruled the genre, The Killings at Kingfisher Hill is hands down the best mystery novel of 2020 so far."  — The Real Book Spy on The Killings at Kingfisher Hill   
"Bestseller Hannah displays her superior ability to devise mind-blowing setups . . . Fans of classic fair-play puzzle mysteries will clamor for more." — Publishers Weekly (starred review) on The Killings at Kingfisher Hill