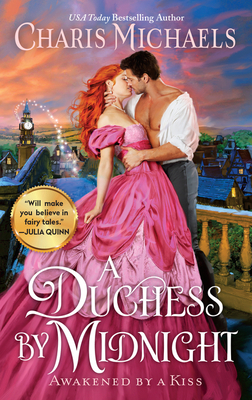 A Duchess by Midnight (Awakened by a Kiss #3)
Publication Date:
July 26th, 2022
Usually Ships in 3 to 5 Days
Description
"Charis Michaels will make you believe in fairy tales."— #1 New York Times bestselling author Julia Quinn
USA Today bestselling author Charis Michaels concludes her Awakened by a Kiss series with another enchanting romance, this time telling the real story of Cinderella's stepsister and the man who can't help falling in love with her.
A Former Ugly Duckling... 
Miss Drewsmina "Drew" Trelayne is a former awkward child and one-time wicked stepsister. Raised by a bitter, overbearing mother, Drew is all grown up and has made peace with her orange hair and bean-pole height. Her transformation has inspired her dream of opening a finishing school that emphasizes inner beauty, capability, and confidence. But launching a school costs money so Drew must begin with private clients who pay well and don't ask many questions. 
A Reclusive Duke...
Ian Clayblack, the Duke of Lachlan, lives alone on his Dorset estate, forced by scandal into a smuggler's life. When his estranged sister arrives with her two daughters, he feels obligated to give the girls a proper Season. Venturing back to society could clear his name and provide his vagabond nieces with a better life. Who better to help than the striking Miss Trelayne? 
A Midnight Kiss...
Affording Drew's services isn't a problem for Lachlan, but his growing desire for her is. As his nieces warm to her gentle charm, he is overwhelmed by her unique beauty and open manner. When they're caught in a scandalous embrace, nothing short of marriage will save all of them from further scandal.
Can a marriage made in haste be love's saving grace?
Praise for A Duchess by Midnight (Awakened by a Kiss #3)
"Charis Michaels will make you believe in fairy tales." — #1 New York Times bestselling author Julia Quinn
"Charis Michaels knows what readers want and delivers." — Lorraine Heath, New York Times bestselling author
"Charis Michaels writes with grace and verve." — Julie Anne Long, USA Today bestselling author
"Smart, sexy, and sparkling!" — Megan Frampton, author of Never Kiss a Duke, on A Duchess a Day
"This entertaining romance leans into its fairy tale roots with just the right amount of over-the-top whimsy. Mirror mirror on the wall, it's fun, charming, and sure to enthrall." — Kirkus Reviews (starred review) on A Duchess a Day