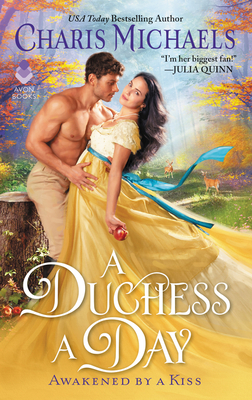 A Duchess a Day (Awakened by a Kiss #1)
Publication Date:
November 10th, 2020
Usually Ships in 3 to 5 Days
Description
USA Today bestselling author Charis Michaels enchants with her Awakened by a Kiss series, taking our favorite fairy tales' forgotten characters and making them the hero of their own story.
An heiress with a plan…
Lady Helena Lark has spent years trying to escape her wedding to the vain and boring Duke of Lusk. She's evaded, refused, even run away. When her family's patience runs out, they pack her off to London to walk down the aisle. But Helena has another idea: find a more suitable bride to take her place, even if she must look for a replacement duchess every day.
A bodyguard with a job to do…
Declan Shaw, better known as "The Huntsman," is a mercenary who can pick and choose his clientele. After his last job, escorting a young noblewoman to France, landed him in jail under false accusations, he wants nothing to do with aristocrats or women. But the law isn't done with him, and if he agrees to babysit a duke's errant fiancé, the payout could make his legal troubles go away.
A most unexpected alliance…
When their worlds collide, Declan realizes that containing his new client is only slightly harder than keeping his hands off her. Helena senses an ally in her handsome new bodyguard and solicits his help. Together they must escape the forces that oppose them and fight for the fairy-tale love they desire.
Praise for A Duchess a Day (Awakened by a Kiss #1)
This entertaining romance leans into its fairy tale roots with just the right amount of over-the-top whimsy. Mirror mirror on the wall, it's fun, charming, and sure to enthrall." — Kirkus Reviews (starred review)
"I'm her biggest fan!" — New York Times bestselling author Julia Quinn
"A fairy tale of a romance! A DUCHESS A DAY is cleverly written, entertaining, and packed with emotion. Charis Michaels knows what readers want and delivers." — Lorraine Heath, New York Times bestselling author
"Sparkling dialogue and unforgettable characters make this a delightful read. A Duchess a Day has it all—a madcap heroine, a sexy (and exasperated) hero, an engaging plot, and sensuous romance. I devoured it in one rainy afternoon and relished every word." — Laura Lee Guhrke, New York Times bestselling author 
"A runaway bride and a reluctant bodyguard? Yes please! Charis Michaels will steal your heart with this delightful, smart, and sensual romp of a historical romance."
— Lenora Bell, USA Today bestselling author
"Just delightful—sparkles with wit and charm! You'll have such a wonderful time reading it. Charis Michaels writes with grace and verve." — Julie Anne Long, USA Today bestselling author
"Prepare to be utterly charmed! A clever retelling of Snow White and the Huntsman makes for a fairy-tale-perfect romance." — Caroline Linden, USA Today bestselling author
"Smart, sexy, and sparkling!" — Megan Frampton, author of Never Kiss a Duke
"With a witty nod to the fairy tale Snow White, Charis Michaels' determined heroine and dashing 'Huntsman' hero will keep you reading late into the night! A delightful Regency romp." — Kate Bateman, author of To Catch an Earl
"A fun and unique twist on a beloved fairytale. Passionate and witty, with feisty, strong-willed main characters that were fairly sizzling with chemistry on the page. With so many hidden gems harkening back to the classic Snow White tale, and protagonists I couldn't help but cheer for, I was hooked from beginning to end!" — Christina Britton, author of A Good Duke is Hard to Find