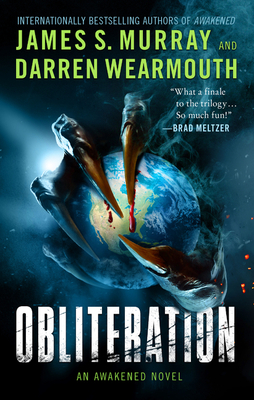 Obliteration: An Awakened Novel
Publication Date:
March 30th, 2021
Publisher:
Harper Voyager
Usually Ships in 3 to 5 Days
Description
"Scary amazing fun."—Brad Meltzer
Evils both above and below ground arise once again, threatening the world and all its inhabitants with extinction in this electrifying science fiction thriller—the final novel set in the Awakened universe—from the #1 internationally bestselling author and star of television's Impractical Jokers and a bestselling science fiction writer.
Thanks to the heroics of former New York City Mayor Tom Cafferty and his team, the world is once again safe. The villainous Foundation for Human Advancement has been dismantled, the cities of the world are safe from nuclear annihilation, and Cafferty is now on a hunt to decimate every nest of creatures on the planet.
When Cafferty enters a nest underneath the Nevada desert, he is horrified to find it completely empty. It can only mean one thing: the battle for survival is not over. Across the planet, creatures are emerging from their subterranean homes. Now, the all-out war against humanity has begun—a war in which only one apex species will survive. Humankind has finally met its match. 
Cafferty knows that only one man can help him stop the onslaught. A man who is despised by the world. A man who has already caused the death of millions. A man who is a sworn enemy hell-bent on taking Tom Cafferty down forever: Albert Van Ness. 
But even this desperate move may not be enough to stop the creatures and save humanity . . . 
Praise for Obliteration: An Awakened Novel
"My kind of book-- tense and frightening and twisted and FUN. I guarantee you-- everything from EEKS to SHRIEKS!"
— R. L. Stine, author of the bestselling Goosebumps series
"OBLITERATION is a bloody war zone of throat-clutching suspense and horror, showcasing humanity at its best and worst. The action is unrelenting, a true rollercoaster of savage twists, turns, and rolls. So strap in and get ready for the ride of your life!"
— James Rollins, #1 New York Times bestselling author of Crucible
"What a finale to the trilogy. Obliteration is exactly what it says: loads of action, explosive fights, and of course…even more creatures. Join the fight and see how it ends. So much fun!" — Brad Meltzer, #1 New York Times bestselling author of The Escape Artist
"This grim vision of humanity's possible extinction should satisfy those looking for a gruesome, diverting read." — Booklist