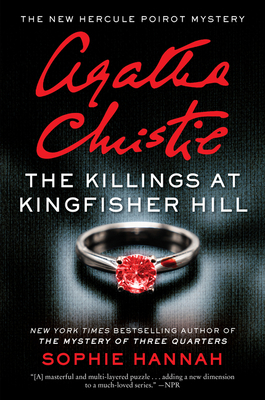 The Killings at Kingfisher Hill: The New Hercule Poirot Mystery (Hercule Poirot Mysteries)
Publication Date:
September 14th, 2021
Publisher:
William Morrow Paperbacks
Usually Ships in 3 to 5 Days
Description
Named a New York Times Best Book to Give
The world's greatest detective, Hercule Poirot—legendary star of Agatha Christie's Murder on the Orient Express and Death on the Nile—returns to solve a delectably twisty mystery in this "masterful and multi-layered puzzle...adding a new dimension to a much-loved series" (NPR).
"Yet again, the diminutive man with the little gray cells delivers the goods." —Wall Street Journal
Hercule Poirot is traveling by luxury passenger coach from London to the exclusive Kingfisher Hill estate. Richard Devonport has summoned the renowned detective to prove that his fiancée, Helen, is innocent of the murder of his brother, Frank. Poirot will have only days to investigate before Helen is hanged, but there is one strange condition attached: he must conceal his true reason for being there from the rest of the Devonport family.
The coach is forced to stop when a distressed woman demands to get off, insisting that if she stays in her seat, she will be murdered. Although the rest of the journey passes without anyone being harmed, Poirot's curiosity is aroused, and his fears are later confirmed when a body is discovered with a macabre note attached . . .
Could this new murder and the peculiar incident on the coach be clues to solving the mystery of who killed Frank Devonport? And if Helen is innocent, can Poirot find the true culprit in time to save her from the gallows?
Praise for The Killings at Kingfisher Hill: The New Hercule Poirot Mystery (Hercule Poirot Mysteries)
"Clever, amusing, complicated . . . a psychological thriller with a characteristically intricate and humorous puzzle of a plot."  — New York Times Book Review, Gifts for Book Lovers, on The Killings at Kingfisher Hill
"Bestseller Hannah displays her superior ability to devise mind-blowing setups . . . Fans of classic fair-play puzzle mysteries will clamor for more." — Publishers Weekly (starred review) on The Killings at Kingfisher Hill
"Once again [Hannah] ably channels Christie and delivers a deftly plotted, pleasingly intricate and thrillingly executed mystery. . . . Hannah keeps her readers on their toes through numerous twists and turns, right up until the trademark drawing-room denouement. . . . It is good to see that [Poirot] is still at work, in Hannah's more than capable hands." — Minneapolis Star Tribune on The Killings at Kingfisher Hill
"It is no small undertaking to follow in the footsteps of Christie, but Hannah nails it in her latest, The Killings at Kingfisher Hill. The tone is pitch-perfect, the mystery aspect is as convoluted as anything ever crafted by Hannah's predecessor, there are more red herrings than you would find at a Swedish breakfast buffet, and the diminutive mustachioed Belgian detective has never been cannier . . . Hannah's work is first-rate. Poirot lives." — Bookpage
"Readers will feel steeped in the environs of upper-middle-class England of days past, the chill emanating from a dysfunctional family, and the torture of doing the wrong thing for the right reasons as they enjoy Catchpool's exasperation and Poirot's genius-at-work sensibilities. . . . Recommend this to board-game aficionados as well as to fans of Christie and Hannah." — Booklist on The Killings at Kingfisher Hill
"Brilliant . . . a masterfully plotted, mind-bending crime thriller that harkens back to the days when Agatha Christie ruled the genre, The Killings at Kingfisher Hill is hands down the best mystery novel of 2020 so far."  — The Real Book Spy on The Killings at Kingfisher Hill   
"Sophie Hannah does an egoless, silky job of reviving Agatha Christie's beloved Belgian detective Hercule Poirot. . . . Enough so to hope that Hannah turns to Miss Marple next." — USA Today
"Perfect . . . a pure treat for Agatha Christie fans." — Tana French, New York Times betselling author of The Secret Place
"Equal parts charming and ingenious, dark and quirky and utterly engaging . . . I was thrilled to see Poirot in such very, very good hands." — Gillian Flynn, New York Times betselling author of Gone Girl
"Does Sophie Hannah's Poirot live up to our expectations? Yes, he does, and markedly so . . . Poirot is still Poirot. Poirot is back." — Alexander McCall Smith, New York Times bestselling author of The No. 1 Ladies' Detective Agency
"Sophie Hannah is genuinely Christie's heir." — The Scotsman
"Classic Christie . . . Captures the essence of the originals without being a slavish imitation . . . Christie aficionados will delight." — Washington Post
"Hannah does a superb job of channeling Agatha Christie . . . with dazzling deductions, subtle cluing, false endings, and superb prose . . . Lovers of classic whodunits can only hope Hannah continues to offer her take on the great Belgian detective." — Publishers Weekly (starred review)
"Among the many posthumously-continued mystery series, is any in better hands than Poirot is in Sophie Hannah's? The poet and crime scribe has managed to keep the spirit of Agatha Christie's novels alive while always introducing new touches and flourishes to keep readers guessing and delighted. . . . Insidious motivations and secret pasts converge in high Christie fashion, as the puzzle plays out in highly satisfying fashion." — CrimeReads on The Killings at Kingfisher Hill
"[A] masterful and multi-layered puzzle . . . adding a new dimension to a much-loved series." — NPR on The Killings at Kingfisher Hill
"For lovers of Poirot and all things Christie . . . you will be in a state of nirvana. Sophie Hannah has long ago blurred the lines between her hand and that of Christie's to the point that the two are indistinguishable from each other. . . . one of my favorite reads of 2020 and the most addictive page-turner of the four Poirot books that Hannah has written. I wait with bated breath for her next offering in this outstanding revival." — Bookreporter on The Killings at Kingfisher Hill
"Stylish, classy . . . Make no mistake, this is the same Hercule Poirot fans the world over know and worship. But Hannah has modernized the way in which the story's told just enough that the pacing is noticeably quicker, making it that much harder to put down. . . . one of the finest writers on the scene today. . . . The Killings at Kingfisher Hill  is a masterfully plotted, mind-bending thriller that harkens back to the days when Agatha Christie ruled the genre. Bravo Sophie Hannah!" — Open Letters Review on The Killings at Kingfisher Hill
"Yet again, the diminutive man with the little gray cells delivers the goods." — Wall Street Journal on The Killings at Kingfisher Hill
"The flow of the story is suitably Christie-like . . .  the reader could segue from Murder on the Orient Express into this present novel without a stumble."  — New York Journal of Books on The Killings at Kingfisher Hill
"An intelligent blend of obeisance and originality, The Killings at Kingfisher Hill merits high praise for the work of Christie and Hannah alike." — The Free Lance-Star on The Killings at Kingfisher Hill
"Filled with plenty of red herrings and surprise twists to keep you guessing . . . so much fun." — Kings River Life magazine on The Killings at Kingfisher Hill
"[Sophie Hannah's] plots are ingenious—she's a writer in complete command of her material—and it's O.K. if you haven't quite kept up. She keeps you puzzled and intrigued, right until the end."
— The New York Times Book Review