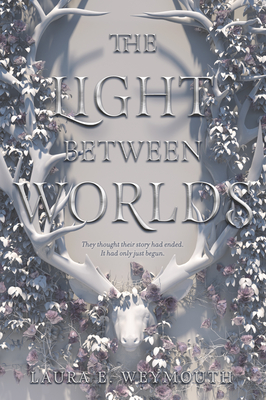 The Light Between Worlds
Publication Date:
August 13th, 2019
Laura Weymouth's debut novel, The Light Between Worlds, is a captivating tale of two sisters struggling to find home and to find themselves. The younger, Evelyn, longs for the days when she and her sister and brother lived in the Woodlands, a mystical Narnia-like land Weymouth paints with beautiful lyricism. Evelyn has carried the weight of her longing since she and her siblings returned to post-WWII England. When Evelyn goes missing, Phillipa carries the loss of her sister, as well as the pain of her own choices. They embark on their own journeys of healing and belonging, each searching for what they've lost and where they belong. Written with meaning, feeling, and depth, The Light Between Worlds is a stunning debut.
Fall 2018 Kids Indie Next List
Description
What happens when you return to the real world after being in a fantastical one like Narnia? This YA debut by Laura E. Weymouth is perfect for fans of Melissa Albert's The Hazel Wood and Lev Grossman's The Magicians.
Six years ago, sisters Evelyn and Philippa Hapwell were swept away to a strange and beautiful kingdom called the Woodlands, where they lived for years. But ever since they returned to their lives in post-WWII England, they have struggled to adjust.
Ev desperately wants to return to the Woodlands, and Philippa just wants to move on. When Ev goes missing, Philippa must confront the depth of her sister's despair and the painful truths they've been running from. As the weeks unfold, Philippa wonders if Ev truly did find a way home, or if the weight of their worlds pulled her under.
Walking the line between where fantasy and reality meet, this lyrical and magical novel is, above all else, an exploration of loss and healing, and what it means to find where you belong.
Praise for The Light Between Worlds
"The perfect story for anyone who's ever searched for magic in the everyday, THE LIGHT BETWEEN WORLDS will break your heart and then make it whole again. Laura Weymouth wields words like she's casting spells, and the result is utterly enchanting." — Sarah Glenn Marsh, author of the Reign of the Fallen series
"Haunting and beautiful, The Light Between Worlds is a love story to siblings, to the belief in magic, to discovering where you belong." — Lori M Lee, author of the Gates of Thread and Stone series
"An achingly lovely take on finding your own world. I loved this beautiful book!" — Melissa Albert, New York Times bestselling author of The Hazel Wood
"Even as Evelyn and Philippa navigate their exile from another world, Laura Weymouth reveals to us the real magic--born of sisterhood, nature, love and resilience--that resides in our own. THE LIGHT BETWEEN WORLDS is transfixing and unforgettable."   — Sara Holland, New York Times bestselling author of Everless
"A mystical novel about three siblings finding, then losing, then finding their ways home again." — Kirkus Reviews
"In this love letter to portal fantasies and Narnia, Weymouth infuses her characters with a rich panoply of emotions set against wartime England. A shining thread of hope and healing mitigates the book's heartbreak and underlying trauma, suggesting a bright future for all involved." — Publishers Weekly (starred review)
"Weymouth offers a picture of severe depression beautified by her own luminous prose...she evokes a sense of empathy for Evelyn, and offers absolution and redemption for Philippa, who has to believe that her sister is in a better place."  — Bulletin of the Center for Children's Books
"Anyone who knows that feeling of being in love with a fantasy world as a child can understand the longing that Evelyn feels for the Woodlands…. I am so compelled by this story and by these sisters who have lived in another world and must find contentment in our own." — NPR
"Emotional and poignant… a powerful, magical debut for all YA fantasy shelves. Hand this to anyone who ever wondered what may have happened to the Pevensie children after Narnia." — School Library Journal (starred review)
"More than just an entertaining read. I can think of no better fantasy book to share with a young adult." — The NarniaFans Book Reviews