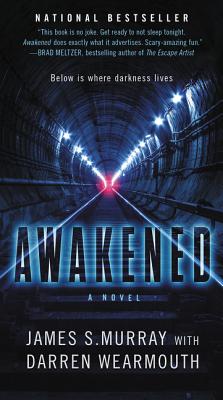 Awakened: A Novel
Publication Date:
February 26th, 2019
Publisher:
Harper Voyager
Description
"This book is no joke. Get ready to not sleep tonight. Awakened does exactly what it advertises. Scary amazing fun." —Brad Meltzer, bestselling author of The Escape Artist.
"Awakened hits the high notes of Douglas Preston & Lincoln Child's Relic and Scott Snyder's The Wake [...] but its scope actually extends much further." —Kirkus
***
The star of truTV's hit show Impractical Jokers—alongside veteran sci-fi and horror writer Darren Wearmouth—delivers a chilling and wickedly fun supernatural novel in the vein of The Strain, in which a beautiful new subway line in New York City unearths an ancient dark horror that threatens the city's utter destruction and the balance of civilization itself.
After years of waiting, New York's newest subway line is finally ready, an express train that connects the city with the burgeoning communities across the Hudson River. The shining jewel of this state-of-the-art line is a breathtaking visitors' pavilion beneath the river.  Major dignitaries, including New York City's Mayor and the President of the United States, are in attendance for the inaugural run, as the first train slowly pulls in.
Under the station's bright ceiling lights, the shiny silver cars gleam. But as the train comes closer into view, a far different scene becomes visible.
All the train's cars are empty.
All the cars' interiors are drenched in blood.
As chaos descends, all those in the pavilion scramble to get out. But the horror is only beginning. High levels of deadly methane fill the tunnels. The structure begins to flood. For those who don't drown, choke or spark an explosion, another terrifying danger awaits—the thing that killed all those people on the train. It's out there…and it's coming.
There's something living beneath New York City, and it's not happy we've woken it up.
Praise for Awakened: A Novel
"Awakened is a good old-fashioned monster story with devious new twists. Creepy and disturbing in all the right ways!" — Jonathan Maberry, New York Times bestselling author of Glimpse and V-Wars
"Awakened is a taughtly written, brilliantly unexpected thriller from authorial duo James S. Murray and Darren Wearmouth [...] Awakened hits the high notes of Douglas Preston & Lincoln Child's Relic and Scott Snyder's The Wake [...] but its scope actually extends much further." — Kirkus Reviews
"This book is no joke. Get ready to not sleep tonight. Awakened does exactly what it advertises. Scary amazing fun." — Brad Meltzer, bestselling author of The Escape Artist
"Murray and coauthor Wearmouth [...] sculpt a briskly moving narrative that includes a plethora of short-burst action sequences and pacing fit for a Brad Meltzer novel. Along the way, they plant the seeds for sequels and craft a tight, pulse-pounding story that practically cries out for a film adaptation." — Booklist
"Aliens meets The Taking of Pelham 123 in this fast-moving science fiction thriller."
— Publishers Weekly
"Awakened is a thrilling read." — New York Journal of Books
"A great book with both science fiction and horror elements, along with some mystery. I highly recommend this." — SciFiMoviePage
"Short, tightly plotted and as grounded in reality as monster stories can be, it's a cinematic read." — Serendipitous Reads
 "It took James S. Murray many years to get his debut thriller Awakened finally published....It was well worth the wait. The thriller is a page-turning great debut." — Red Carpet Crash
"Awakened is an action-packed, fast-paced and exciting read, one to switch your brain off and just enjoy for what it is, a fun-filled creature-fest." — The Tattooed Book Geek
"If you're looking for a good scare delivered in a fast-paced, blockbuster-style novel with thrilling action and horror, this novel should do the trick. Overall, I thought it was a fun and thrilling read." — Bibliosanctum