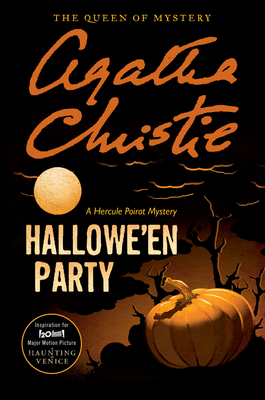 Hallowe'en Party: Inspiration for the 20th Century Studios Major Motion Picture A Haunting in Venice (Hercule Poirot Mysteries #36)
Publication Date:
June 14th, 2011
Publisher:
William Morrow Paperbacks
Usually Ships in 3 to 5 Days
Description
Enjoy Agatha Christie's beloved classic, Hallowe'en Party—the inspiration for the major motion picture A Haunting in Venice, directed by and starring Kenneth Branagh!
In this authorized edition from the Queen of Mystery, a Halloween party turns deadly, and it falls to Hercule Poirot to unmask a murderer.
At a Halloween party, Joyce—a hostile thirteen-year-old—boasts that she once witnessed a murder. When no one believes her, she storms off home. But within hours her body is found, still in the house, drowned in an apple-bobbing tub.
That night, Hercule Poirot is called in to find the `evil presence'. But first he must establish whether he is looking for a murderer or a double-murderer...
Praise for Hallowe'en Party: Inspiration for the 20th Century Studios Major Motion Picture A Haunting in Venice (Hercule Poirot Mysteries #36)
"Agatha Christie needed to create an exceptional detective to outthink every reader and Hercule Poirot is the result." — Peter Lovesey, Anthony award-winning author of Stagestruck
"A thundering success….A triumph for Hercule Poirot." — Daily Mirror (London)