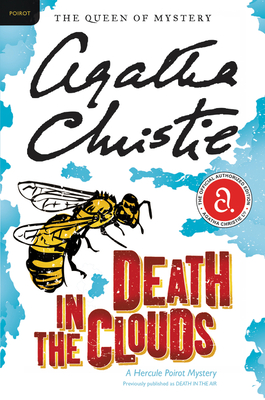 Death in the Clouds: A Hercule Poirot Mystery (Hercule Poirot Mysteries #12)
Publication Date:
June 14th, 2011
Publisher:
William Morrow Paperbacks
Usually Ships in 3 to 5 Days
Description
In this official authorized edition from the Queen of Mystery, Hercule Poirot must solve a perplexing case of midair murder when he discovers that the woman in seat two of the airborne aeroplane he's traveling on is quite unexpectedly—and unnaturally—deceased.
From seat No. 9, Hercule Poirot was ideally placed to observe his fellow air passengers on the short flight from Paris to London. Over to his right sat a pretty young woman, clearly infatuated with the man opposite; ahead, in seat No. 13, sat a countess with a poorly concealed cocaine habit; across the gangway in seat No. 8, a writer of detective fiction was being troubled by an aggressive wasp.
Yes, Poirot is almost ideally placed to take it all in, except what he did not yet realize was that behind him, in seat No. 2, sat the slumped, lifeless body of a woman. Murdered, and likely by someone in Poirot's immediate proximity. 
Praise for Death in the Clouds: A Hercule Poirot Mystery (Hercule Poirot Mysteries #12)
"As a crime writer I quickly realized that I'd already learned a great deal from Agatha Christie, and even after four decades in the game, I feel I'm still learning." — Reginald Hill, author of the Dalziel and Pascoe mysteries
"It will be a very acute reader who does not receive a complete surprise at the end." — Times Literary Supplement (London)
"[A] crime puzzle of the first order." — New York Times