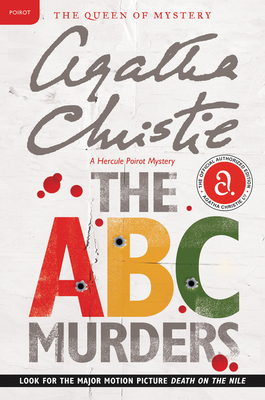 The ABC Murders: A Hercule Poirot Mystery (Hercule Poirot Mysteries #13)
Publication Date:
February 1st, 2011
Publisher:
William Morrow Paperbacks
Usually Ships in 3 to 5 Days
Description
In this official authorized edition from the Queen of Mystery, Hercule Poirot sets out on the trail of a serial killer.
There's a serial killer on the loose, working his way through the alphabet and the whole country is in a state of panic.
A is for Mrs. Ascher in Andover, B is for Betty Barnard in Bexhill, C is for Sir Carmichael Clarke in Churston. With each murder, the killer is getting more confident—but leaving a trail of deliberate clues to taunt the proud Hercule Poirot might just prove to be the first, and fatal, mistake.
Praise for The ABC Murders: A Hercule Poirot Mystery (Hercule Poirot Mysteries #13)
"An entirely original idea." — Daily Telegraph (London)
"Mrs. Christie has invented an entirely new plot for a detective story—a difficult thing in these days; she is to be congratulated on the perfection of her invention." — The Times (London)
"Her best yet. Where does she get hold of these brilliant notions?" — Bristol Evening Post
"There is no more cunning player of the murder game than Agatha Christie." — Sunday Times (London)